| | |
| --- | --- |
| 16-Feb-2012 | Cream City Sessions ~ Gesu Cathedral Released |
A few months ago, The Vitrolum Republic got the opportunity to perform at one of Milwaukee's oldest landmarks, the Church of the Gesu on the campus of Marquette University. We took the opportunity to create not only a truly unique performance for a live audience, but an album that captures what our live shows are like in a way that our fans can enjoy and share.
Named "Cream City Sessions ~ Gesu Cathedral," this release is the first in what we hope to be an ongoing series of performances that reflect our band's home town and the numerous incredible spaces it has to offer for performing music.
The artwork for this album was chosen from some existing work by Milwaukee artist, Sue Lawton, who has previously both created original work for the Vitrolum Republic and incorporated the band in her book, The Circus and the Cyclone. This piece is titled, "Siren Song" and is from her surrealist opera. Find out more about Sue and her work at her website.
You can download this album for free on Bandcamp and view the entire performance on YouTube.
This album was also recently reviewed by our friends at the GeekDad blog at wired.com, so please go check that out.
Thank you, Milwaukee, for your incredible support and we look forward to bringing our unique sound to even more people in the year to come.
| | |
| --- | --- |
| 17-Nov-2011 | WMSE Local/Live and the Journal Sentinel |
A couple months ago, The Vitrolum Republic performed on WMSE's Local/Live program, playing a short set of music and an interview. It was a fantastic experience, as WMSE has a storied and important history in Milwaukee's alternative music scene, and it was an absolute privilege to perform in their studio. You can listen to a recording of Dón Pravótchka (Go Forth!) from that session below and download your own copy for free here!
Additionally, we stopped in the Journal Sentinel offices to perform some songs for their weekly feature, Sound Check. This accompanied one of the best print articles we've had, and really had a great time. You can read the article here and see the performance of Dón Pravótchka on YouTube along with Willow Song, which can be found below.
Lastly, the Cedarburg Cultural Center will be hosting us along side Sue Lawton's book release for The Circus and the Cyclone in February. Full details to follow. We performed a private event for them earlier and they wrote up a touching blog post about it.
Even though it's been months since our album's release, we're still getting press and praise for our album. The latest comes by way of a very awesome regional music blog, the Hot Lunch Collective. Check out their full review which says, "the music composition and outstanding blend of instruments used while recording leaves a lasting impression on the listener, and certainly kept my ears perked and eager to hear what would be used next."
Additionally, our single, Beautiful Release, was featured on the website, Song Of The Day. In the review, the author says that our band, "instantly comes across with the depth and tone of a group well worn with the experience of decades of music making.
We're always excited and grateful to hear what others have to say about our music. Thank you for your kind words!
| | |
| --- | --- |
| 29-APR-2011 | Interview on WUWM and New Announcements |

A few days ago, we stopped in the WUWM studios to be interviewed by Bonnie North the arts producer for Lake Effect which is a news magazine-style program on Milwaukee's NPR-affiliated radio station. The interview was great, covering the formation of the band, describing our sound, and introducing Ben Schaefer, The Vitrolum Republic's newest member and percussionist. In addition to the interview, we performed in studio. You can listen to the interview in it's entirety below:
And here is the entire in-studio performance:
We've additionally drummed up some new press. The UWM Post had an excellent review of a concert at Linneman's with Wolfgang Schaefer and Castle Thunder. We also participated in the launch of a brand new Milwaukee music blog, Now Add the 7th, with an epic series of interviews.
We also have an exciting summer ahead of us. We're pleased to announce that we'll be performing at Summerfest this year, along with a return to Polish Fest and a debut at Bastille Days. More to come, as always, so keep an eye on our tour page.

| | |
| --- | --- |
| 20-FEB-2011 | New Press and Our Appearance on 88Nine Radio Milwaukee |
Coming off of our successful CD Release Party, we have some great new press to showcase. First, the band performed live in-studio on the 414 Music program on 88Nine, Radio Milwaukee on February 3rd. The producers at 88Nine were gracious enough to record the performance and are allowing us to post it for your convenient playback.
Additionally we were named 'Album of the Week' by the indie music review site, QRO Magazine. We also had a piece run in Milwaukee's Shepherd Express newspaper which, in an interview with the Vitrolum Republic's bassist and producer, Chuck Lawton, discuss the recording process that makes up 'For Highbrow Sideshows and Rowboat Serenades.'

| | |
| --- | --- |
| 4-JAN-2011 | CD Release Event Announced |
I'm Not A Pilot with
The Vitrolum Republic and
Honest Monday

At Stonefly Brewery in Riverwest ~ $8 at the door.
Celebrating the release of their first full-length album, "For Highbrow Sideshows and Rowboat Serenades," The Vitrolum Republic will be performing music along side two great Milwaukee bands.
The Vitrolum Republic blend a variety of genres of music into their own style, called 'Gypsy Noir.' With classically-infused music rooted in improvisation, every performance is a unique experience.
Opening the event is Honest Monday with front man Marc Ballini. Honest Monday, a staple at Milwaukee's Jazz Estate, is also celebrating their CD release. Visit http://www.honestmondayband.com/ for more.
Closing this event are I'm Not A Pilot, recognized by Shepherd Express as the "Best Rock Band" in 2010. Piano and Cello are the signatures of I'm Not A Pilot's sound and help to deliver both beautiful and powerful pop/rock music. Visit http://www.imnotapilot.com/ for more.
Come invite your friends and let's pack the place. It's a fantastic line up for three of Milwaukee's best bands!


| | |
| --- | --- |
| 1-DEC-2010 | For Highbrow Sideshows and Rowboat Serenades Released |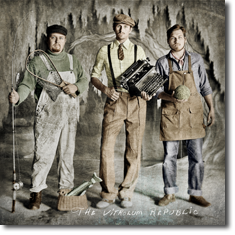 After two and a half years in production, The Vitrolum Republic is proud to announce the release of their first full-length album, For Highbrow Sideshows and Rowboat Serenades. Consisting of complex arrangements using a variety of instruments, the album takes the listener on a journey of musical styles including folk, jazz, blues, gypsy-noir, and singer-songwriter. Underpinning this diversity, however, are common threads rooted in those arrangements and voices of the core members of The Vitrolum Republic.
Featuring Nick Waraksa on piano and accordion, Jordan Waraksa on violin, guitar and banjo and Chuck Lawton on bass, guitar and cello, the trio craft songs evoking memories of growing up and growing together with imaginative stories and themes that gives their music a timeless feel.
Adding to this aesthetic are the additional musicians and artists who helped to create this album. Scott Roush, an early member of The Vitrolum Republic, provided percussion on Lights Out, Make Believe Girlfriend and Stop That Man! Marissa Waraksa sits in on Pretty adding vocal textures to that song's refrain. Sue Lawton provided artistic illustration used in the album's liner notes and created the painted backdrop featured on the album's cover. Nat Davauer brought his artistic vision to bare through his photography and post-production work on the album art.
But the story of Highbrow Sideshows and Rowboat Serenades transcends the music itself. Crafting this work themselves with Chuck Lawton taking on producing and recording duties, The Vitrolum Republic went out to create a truly independent album. This allowed the group to spend as much time as necessary in their studio without making any compromises.
This album also represents a new beginning for a group who has been playing music together for four years. They are hard at work preparing for a CD release event and future shows to bring their live performance to more cities in the coming months.
You can purchase a copy of the album online via Bandcamp, iTunes and Amazon MP3. Physical copies are currently exclusively available at their live shows. New shows are in the process of being booked, so keep an eye on the tour page.
Thank you to everyone who has supported the group over the past few years and we appreciate your continued support as The Vitrolum Republic continue to write and perform music in to the future.